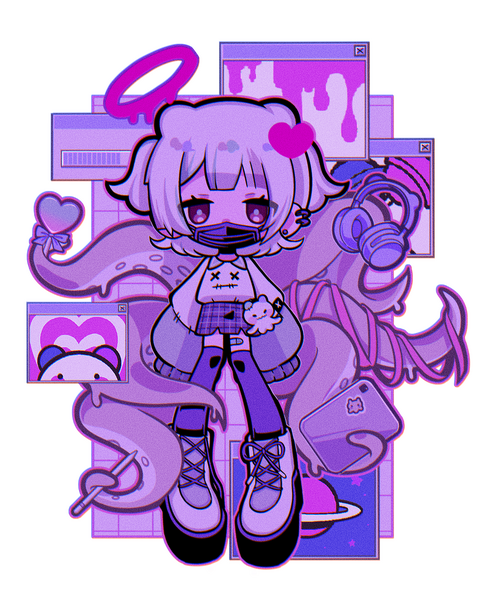 i scribble stuff ✩彡
also known as @wooqiart
FAQ here!
ಇʕ. ̫ . ʔಇ wassup
✩ art comms open!
please read TOS before you send a form!
⇢ art comms link
✩ part of a sweet
artist community!
check us out here:
✧ prices ✧
✩ doodly chibi ✩
Status: CLOSED
Price: $10 for 1 character
(for personal use only!)
✩ stationery chibi ✩
Link to order:
CLICK HERE

✧ do & will not do ✧
✅ Will draw:
- original characters
- pets / animals
- simple
- colorful
❌ Will NOT draw:
- NSFW (rated R stuff)
- real life people
- furry
- armory / mecha
- scales (lizards, dinosaurs etc)
- cluttered / super detailed characters
- muscles / body built charactersNote: I will apologize in advanced, if I don't reply to your commission form, it means I've declined your request!
✧ please read ✧
- I have the right to accept & decline anyone's requests.
- Any inappropriate/rude behavior is not tolerated and will cancel commission if it occurs.
- USD currency is accepted and payment will be through Ko-fi, Venmo or PayPal!
- Some commissions may be completed quickly but some may take a while to complete (weeks to a few months) depending on my schedule, health, and in real life situation, etc.
- Only a few changes are allowed to be made when art is completed (colors, adding one detail etc)
- Reminder that "stinky chibis" are quick sketches, and there is a reason why I called them that!
- If you fail to follow all the rules stated here, you will not be allowed to commission me ever again. Your name will be posted publicly for others to be warned about.
- Note: Please make sure to check your SPAM folder in your emails, because sometimes the art I send goes to spam unfortunately.

✧ navigation ✧
✧ copyright rules ✧
- Credit me always.
- I hold the right to the artwork I create for you (I can use/display it anywhere etc)
- You are not allowed to claim/produce it as your own art.
- Please do let me know on the order form if you are using it for commercial use or personal use.
- Commercial use is an extra charge!
- For commercial use, you are allowed to produce it (make it into a product, etc) but make sure to always credit me.
- For personal use, you are allowed to print it and use it privately. You can also put it up on your Twitch or Youtube overlays + panels.
- DO NOT make changes of the art on your own.
✧ form ✧
If sending the form does not work here, please send it to my Twitter (@wooqiart) or email: [email protected]
(Please copy + paste below) 🠋• name (required):
• email / twitter / instagram (required):
• feel free to ask any questions etc (optional):

brainstorming 24/7Hello! I'm Cara. You can call me by that name but you can also call me by my user "wooqi" I'm a self-taught freelance artist who loves working with pastel + vibrant colors. I love doodling a lot and creating stationery goods!
FAQ about my art + me:1. What inspires you to make art?
A lot of things inspire me! Mostly my inspiration comes from storybooks and old cartoons. I also get inspiration from family, friends, other cool artists, then it all just goes into my imagination! Sometimes it's just random and out of the blue, just for fun!2. Are you open for art commissions?
Yes, both commercial + personal use. If you want something drawn besides the commissions listed here, please contact me.3. What are your pronouns?
Any pronouns!

✩ credits ✩
✩ Live2D:
• Lovely mama of Koko (hamster) by @mokarooru_0x0 ♡
• Mama of the sitting down Wooqi model by @nyaaaa__x
• Upcoming Vtuber model (sometime end of this year of 2023) by @nanart_19
• Character design of Wooqi Vtuber model by Honoka + me!
• Chibi pngtuber art made by @netsururuw
• Live2D bouncy small hamster + froggy by @LuckCapsule✩ Other:
• Wooqi doll art on Just Chatting screen by @PiaRabbit
• Wooqi chibi PNGtuber art on stream @netsururuw
• Twitch profile picture by @strawber_ytarts
(https://twitter.com/netsururuw)
• Koko Kooki's logo by almosthirteen
• Pixel on about me panel + Twirly/Swirly Clodsire pixel, Dedenne with flower crown pixel by @ash_mallard
• Pikachu assets starlightakari
• Chibi of Koko on Carrd by @hanjeoo
• Clingy bebes (of @SanaBwun, @SemySin @HazeXVIII) as assets on my model by sexy Konppei
• Most backgrounds I use for my character reference, carrd background, and Patreon + product display are made by OKUMONO
• Starting screen art by @kitachan0v0
• Ending screen art by @rodori2023
✩ Emotes:
• wooqi juice, Anya smirk, and sob emotes by @kuumiii_e
• Kokogre/shrek emote by @lemonnroll
• hug emote of @smeadVT and Koko by @ysk2z_
• Koko & wooqi derp emotes by @patofry_
• Ueaghh emote by @smeadVT
• Koko bite emotes by @MiruuArt
• Koko wiggle by @0MapleSyrup0
• Animated hamster keyboard bongo pixel + animated purple hamster pixel emotes by @doagawoo
• Hamster Sub badges by SeviYummy
• wooqi bounce animated pixel emote by @Acccel_
• wooqi Laugh Cry emote by @acidicchoArts
✩ T.I.T.S. throwables:
• 3D sunflower seed throwable, 3D strawberry by @doagawoo
• 3D froggy Chair model by Dekania
• Chibi art of SemySin yeetable by @stupidvin✩ Alerts:
• Sub alert song by Stream Cafe! I won it during a giveaway. Thank you so much, Stream Cafe!!
• Follow alert sound: HazeXVIII
• Channel point "got a voibe" recording by SanaBwun
• Opening, brb, ending tunes by @chipforest